Location
Map
Padurea Neagra Road, District 1, Bucharest
Ever since you turn left next to the Zoo, an alley opens in front of you, meandering slightly through Băneasa Forest. You walk through the green trees, inhale the fresh air and head to the end of the alley. You have the feeling that you are no longer in Bucharest and that you got lost in the middle of the forest. But, at some point, after only a few minutes, a city different from everything in Bucharest suddenly opens up, a unique combination of modern minimalist architecture, exceptional lifestyle and a spectacular natural landscape, a city embraced by the forest. 
You've come reached your destination: HOME, in Greenfield! The view is unique! It seems that the fast pace of life slows down, and the atmosphere urges peace.
Road Access
The privileged position of Greenfield Residence, in the North area, allows quick access to any point of interest, whether it is the business area of ​​the city, the most select shopping area or top schools and kindergartens.
The access to Greenfield is made on two roads, through Aleea Teișani with entrance from DN1 Bucharest – Ploiești, or through Vadul Moldovei Street, which connects the residential complex to Bucharest ZOO. Additional access roads are about to be added as the neighborhood develops. Today, they are in the final phase of approving the PUZ documentation.
For those who love weekend getaways, Greenfield location is ideal. Without crossing the entire city, you immediately reach any of the three highways, thanks to the immediate access to the Ring Road.
In addition, Henri Coanda Airport is 10 minutes away, so in Greenfield you are one hour closer to any corner of the world.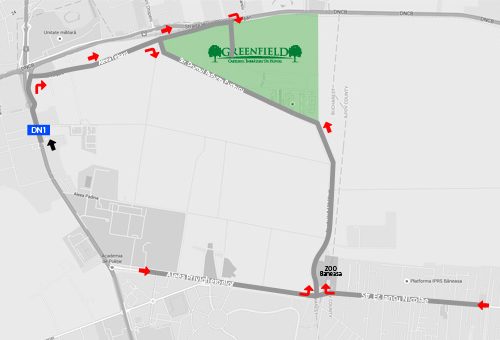 Transport
In the neighbourhood there is a modern STB terminal that provides residents with access to the public passenger transport of Bucharest. Line 204 connects Greenfield to Strauleşti, and Line 203 connects Greenfield to Press Square.
According to the approved urban plan, in Greenfield, there will be built a school and a kindergarten on 2 lands provided free of charge to the municipality, also an STB terminal, various other public functions and an ISU subunit to serve the entire northern area of ​​the capital. For the execution of these functions and infrastructure elements, we have allocated a budget of over 3 million euros (excluding VAT).
In the nearby future, according to the existing public information on the Metrorex website, Highway 6 will connect the existing network to Otopeni Airport. Subway stations will be located near Greenfield residential complex, next to Băneasa Shopping City, the US Embassy and the French High School, respectively.
Show more