Location
Map
"Copou" represents more than an emblematic area of Iași. The historical weight and the positioning above the city make this area a location with a soul, which has a story waiting to be continued by those who will choose to make Greenfield their HOME: the place that belongs to you and to whom you belong. Hence the responsibility of IMPACT SA to develop not only a residential complex but a community. A development that integrates into the area, enters harmony with nature, uses the principles of sustainability as values pers se for the comfort of the residents.
Access
The main access to Greenfield Copou is via Viticultori Street, the entire community being just a 15-minute drive from the city center and Palas Mall area. By Mihail Sadoveanu Alley you are a few minutes away from Round Copou, the end of the line of public transport.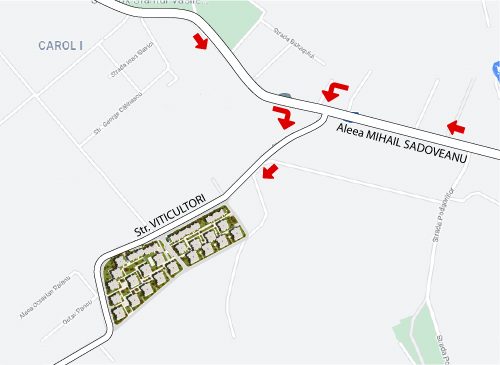 Surroundings
A few minutes away there are the University of Agricultural Sciences and Veterinary Medicine, Alexandru Ioan Cuza University and the prestigious Grigore Moisil, Mihai Eminescu, Garabet Ibrăileanu High Schools. The Exhibition Park and Copou Garden, where you can enjoy the fresh air and the areas dedicated to sports or the quiet alleys of the Botanical Garden are areas in the immediate vicinity. An exceptional location that brings value not only to the residents but also to the city itself.
Show more